Get Your Garage Door Back on Track in Central Florida
Get repairs from Bear Garage Door Services in Central Florida including Tavares or Altamonte Springs.
Protect Your Belongings
Install a new garage door for your home
Residential Garage Door Repair
Residential Garage Door Installation
Choose a Garage Door Company With Experience
Our team in Tavares, FL has been in the field for nearly 20 years
Your garage door needs to be strong and secure. It protects some of your most prized possessions, and serves as an entryway into your home. Bear Garage Door Services LLC offers repair and installation services throughout the Central Florida area. Whether you're building a new garage or you need to repair a dent in your door, our team will take care of it for you.
When should you call a garage door company?
A reliable garage door company can help you with a wide range of issues. At Bear Garage Door Services LLC, we can:
Repair a damaged garage door
Install a new garage door
Replace your old garage door
Whether you need garage door repair work done or it's time for a new door installation, you can depend on us for top-quality results. Schedule your garage door installation today by calling (321)347-8400.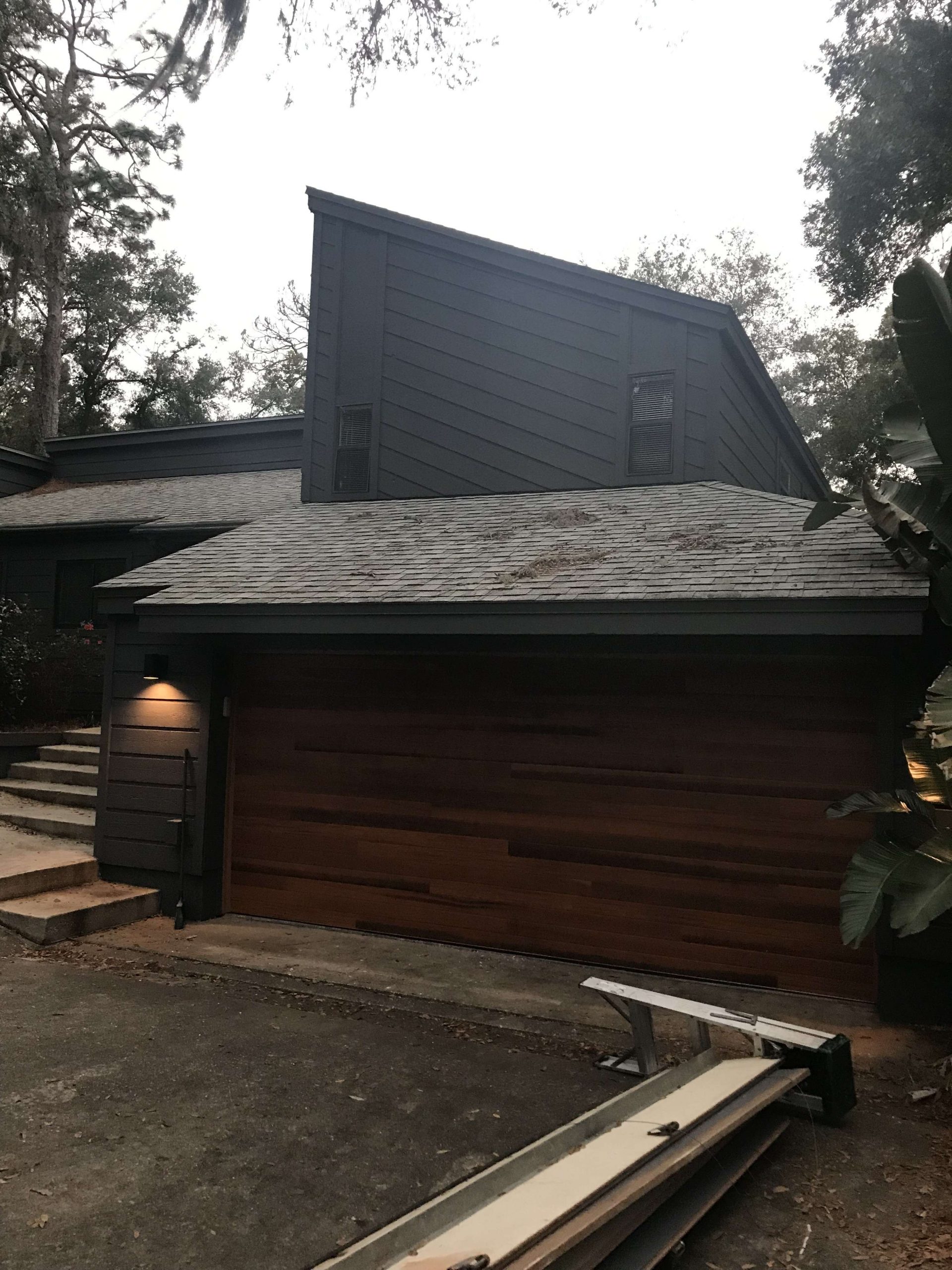 3 good reasons to choose Bear Garage Door Services LLC
When you're installing a new garage door, or repairing your existing one, you need a garage door company with experience and expertise. You'll be glad you chose Bear Garage Door Services because:
We focus on quality customer service.
Our team has nearly 20 years of experience.
We offer comprehensive garage door services.
Choose a garage door company in Central FL, including Tavares and all surrounding areas that you can depend on to get the job done right.
Amanda K. in Longwood, FL
Install or Replace a Garage Door
"We hired Bear Garage to replace our old, wooden garage door and opener after receiving several quotes from other companies, we decided to go with Bear because we wanted to support a locally owned small business, they had a large variety of doors that had the unique look we were looking for, and they were straight shooters from the very beginning. Now that we have our new garage door installed, we could not be happier. Mr. and Mrs. Shirley were friendly, honest, courteous, hard-working, and just plain pleasant people to have working in our home. Prior to the install, they brought to us several samples to help us finalize our decision, and took extensive notes on the nuances of our low ceiling install. The day of the install, they arrived on time, worked diligently without even taking a break! They took meticulous care to keep the garage clean while they worked, which I tremendously appreciated. They recommended a specific brand of opener that I was originally hesitant about after reading some reviews online, but now that it's installed, I could not be happier. I've never heard a garage door opener so quiet in all my life. My office is directly above the garage, and it used to scream to life every time my husband opened the garage door. Now I can't even tell when he's going in or out of the door. Plus it's got all the bells and whistles that make life so much simpler. Thank goodness I listed to Mr. Shirley! I absolutely adore what our new garage door has done to the appearance of our home. Everyone who sees it passing by tells me how cool our house looks now. We've gotten so many compliments, and I'm telling everyone who will listen to call Bear Garage Door Services!"
Roger and Angela, the Owners of Bear Garage Door Services were excellent to work with. They were both on the job site performing the installation. Upon meeting Roger and Angela, we could determine they were forthright, hardworking individuals. Their work ethic and diligence to make certain we as customers were completely satisfied was outstanding. It may be interesting state, the Cedar Style garage doors add a much improved architectural and aesthetic element to our home style. We highly recommend Bear Garage Door Services.
Matthew P. in Pompano Beach, FL
Really easy to work with and very professional.
Steven A. in Tavares, FL
This company is very honest and easy to talk to. They are not trying to beat you out of anything. They truly want to help and will.
Lynn F. in Ocoee, FL
Very polite, knowledgable and hard working.
Daniel R. in Eustis, FL
Angela and Roger came to our house at 8:00 pm to repair our garage door. They were fast and did an outstanding job! We would recommend them to anyone in need of garage door repairs or service.
Tracey S. in The Villages, FL
They worked fast, efficiently and were priced very reasonably. Simply great. They even came out on a holiday weekend! I will definitely use them again and highly recommend them!
Zoraya S. in Orlando, FL
Bear Garage Door Services is a small business operated by very experienced pro in a straight forward but very caring manner. Competitive price was given for the service I inquired about without slick sales talk to push for additional parts or unnecessary service packages. Yet upon completion of the service, they thoroughly inspected the entire door mechanism and lubricated all moving parts. My home was treated respectfully and they were very flexible with my schedule. Great experience and an easy company to recommend.
Riku H. in Altamonte Springs, FL
They were quick and fast and adjusted to my time
Rory K. in Orlando, FL
Great communication and was impressed with work! Thank you so much!
Christina P. in Leesburg, FL
Bear Garage Company is a 5*****Star Company, they believe in their customer satisfaction guarantee 100% We highly recommend this company for all your garage needs. Thanks for the great job you did for us, We are one happy customer.
Mrs g D. in Clermont, FL
Roger and Angela super professional. Exceeded all our expectations. Removed old garage door and installed new custom door inl less than 5 hours. Double car garage and all at what we think at a very fair price. Thanks y?all much ??????????
Billy G. in Winter Park, FL
I like doing business with family owned and operated business. They are kind and courteous. Good to communicate with scheduling and arrival time. When they arrived they had the parts needed and corrected the problem. Did a wonderful job. I highly recommend Roger and Angela.
Judy D. in The Villages, FL
Bear Garage Door services was fantastic. They were on time courteous, and on top of that we received great professional quality work! I have already recommended them to my neighbors and would highly recommend them to all. Thank you guys.
David K. in Orlando, FL
These guys replaced my old door with a new one. I m so impressed with the quality of their work. They did everything that they said they would & left my home looking beautiful! I would recommend to everyone.
Jowan J. in Ocala, FL
When they called I was able to get an appt.the next business day. Has soon as Mr.Shirley looked at the garage he saw what was wrong. He was done within an a hour.
Joann W. in Orlando, FL
Excellent service. Personable. Professional. They offered to come days earlier from the day I had scheduled through the app. I was so happy about that. They arrived when they said they would arrive – a true mark (in part) of trustworthy service. Service was for fixing a broken tension spring. They checked and cleaned other parts of my door too at no extra charge beyond our agreed reasonable price. Yay yay!
Terry D. in Winter Garden, FL
Both Roger and Angela were personable, responsive, professional, and affordable. The most important thing is that I felt that I had quality service. I would most definitely hire them again and refer them to everyone. The work was top notch. I don't think that I could bestow enough praises about their work!
Amana L. in Kissimmee, FL
Bear came to my house in the Villages and made adjustments to my garage door so that it worked. No high pressure sales , just good old fashion service and support and very good value. I highly recommend them for any garage door work here in the Villages.
Larry O. in Lady Lake, FL
They replaced our garage door. I would recommend them based on the overall experience. They are quick to answer communications, great customer service, and very knowledgeable about their product. Support local business, and hire Bear Garage Door Services!
Ed L.
Business owners Roger & Angela Shirley are prompt, honest, polite. Great communication on project time, needs, & cost. Project was handled with knowledge and safely. Price was better than other HomeAdvisor referrals. Thank you for your great service.
Jo ann F. in Apopka, FL